A Fountain of Freshness
Cold-pressed juice, fruit and veggie-packed smoothies, and plant-based meals to go!
Explore the Full Menu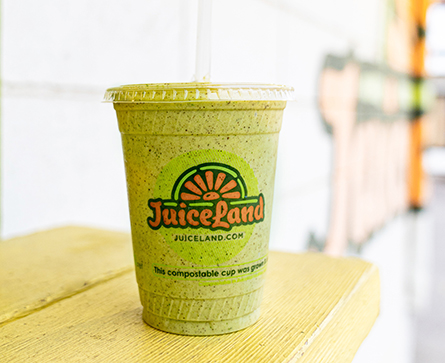 Wundershowzen
almond milk, banana, spinach, hemp protein, peanut butter
Golden Mylk Coffee Latte
SERVED HOT or ICED. cold brew coffee, hemp seed, date, turmeric, coconut oil, cinnamon, vanilla
Find Us
Search our locations in Austin, Houston, and Dallas to find your nearest JuiceLand.
See All Locations
How we do it
We blend raw cold-pressed juice with whole fruits and vegetables to create thick, superfood smoothies! Guests can order fresh juice made-to-order or pick up a bottled cold-pressed juice from the grab-and-go cooler. Lookin' for something different? We also serve grab-and-go plant-based meals, superfood lattes, and wellness shots! Stay awhile and ask questions—we've got a lot to share!
Follow @JuiceLand for freshly pressed news, specials, and fun.
Join our Team!
We're a vibrant, energetic bunch, and growing! Our team is all about helping people be their best selves, one refreshing serving at a time. Sound like you?
See Opportunities