About us!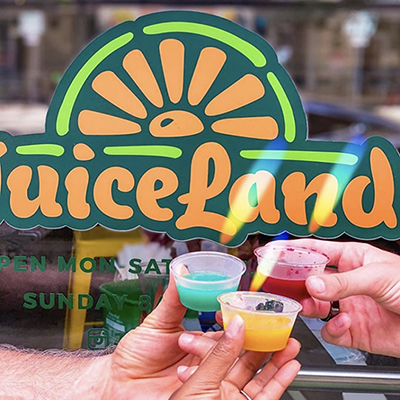 Fueled by fun and the belief that fresh foods can be life-changing, JuiceLand creates raw, cold-pressed juices and superfood smoothies from the most interesting and delicious fruits, vegetables, and ingredients around.
Our shops are stocked daily with unique plant-based meals made in-house, step-by-step juice cleanses, and tonics aimed to enhance vitality. To us, nourishment comes in the form of good foods, a healthy environment, and a vibrant community. We practice gratitude for all by sourcing our ingredients sustainably, using only compostable and recyclable packaging, and cultivating a fun, inviting vibe in our shops that is inspiring and welcoming to all. We live for the idea of fueling our guests to get their creative juices flowing.
JuiceLanders form a lively crew that's known for spinning, blending, pressing, and caressing juice out of a mind-boggling array of lovely produce. Got a question about drink recommendations or ingredient modifications? Our team is trained to be of service.
Our Mission
With passion and creativity, we encourage our community to embrace health, wellness, and a vibrant, plant-based diet to positively impact humankind and the sustainability of our planet.
Our values
Fun
This company was built on fun! We are proud of the fact that our staff enjoys coming to work and spending time with people they love being around.
Welcoming
We are hyper-focused on making all of our customers and crew feel like they belong at JuiceLand. We welcome all!
Vitality
Our energetic crew and our fresh products promote vitality, providing customers with the energy to empower healthy choices.
Refreshing
JuiceLand was founded in Austin near the invigorating waters of Barton Springs Pool. On a hot summer day, walking into a JuiceLand feels like jumping into the Springs. You'll leave revitalized by the smell of fresh, delicious fruits and vegetables and full of positive vibes from our exceptional customer service and inclusivity in our workforce.
Mindful
To us, being mindful means staying in the present moment while also considering the future. It means paying attention and thinking about the impact of each purposeful decision we make. We believe we all have the capacity to encourage mindfulness in each other and in our community.
Exceptional
We go above and beyond to uphold a high standard of quality in our products, our customer service, and our crew.
Gratitude
We believe that in just about every situation, there is something to be grateful for and that what you focus on expands. We appreciate fresh fruits and vegetables, fresh faces, and fresh attitudes. And we especially appreciate our JuiceLand crew, customers, and community. As we love to say: Gratitude is the juice of life!
our founding story
JuiceLand began as a way to relax and enjoy life. We're still all about this.
In 2001, JuiceLand founder Matt Shook took a break from swimming at Barton Springs Pool to get a fresh carrot, apple, ginger juice at a little stone cottage called the Juice Joint. Figuring it was just a stone's throw from the Springs and that it'd be fun to work at a juice bar, Matt applied for a part-time summer job. That decision ended up changing the course of his life in the most incredible of ways, and soon he was his own boss.
Owning a juice bar opened Matt's eyes to a world of opportunity. It deepened his connections with the community and gave him an understanding of how diet impacts well-being. Matt's sense of humor, love of music, and commitment to excellent customer service provided his guests with a truly uplifting experience. His deepest source of pride is the fun-loving team that he assembled in those early days. Even as the team has grown, we've stayed true to our mission to provide authentic service to JuiceLand's loyal fan base.
Fueled on yerba maté and organic green juice, Matt is obsessively listening to both customers and his "juice crew" daily, brainstorming the latest menu ideas, driving sustainability throughout the company, and identifying nonprofit organizations to support through JuiceLand's Feel Good, Do Good donation program.
Matt's current favorite drink is the Hempinator (a twist on his very first sublime smoothie creation, the Originator), which now includes hemp milk, acai, and hemp oil.
"Making plant-based food taste good and helping shift guests' diets has been one of the greatest joys of my life. We've had countless guests and crew that have used JuiceLand as a vehicle to change lanes in life. It's been an honor watching people speed up to their destination of wellness." – Matt Shook, Originator and CEO
Fresh Press
Want to join the JuiceLand family?
Our fun-loving (and growing!!) team fuels dozens of locations throughout Texas, helping people feel better all the time.